For you
Tastiness, freshness, and health
We provide high quality, safe fish cultured by us and delivered alive to the market.
Our fish are perfectly fresh thanks to live fish shipment
There are several ways of fish delivery, such as delivery of fish that have been killed, and delivery of fish alive. Live fish delivery costs a lot because it is necessary to carry them in seawater, but it keeps fish extremely fresh.
All the fish Akasaka Fisheries raises are shipped alive in our trucks. At the consumption areas, wholesalers and processing companies paralyze fish quickly and precisely with special skill (ikejime) because they handle tens of thousands of tons of fish a year. Therefore, fish from Akasaka Fisheries can be delivered to the retail market in the freshest condition.
We keep fish safe and clean with strict hygiene management.
Farmed fish rarely have the parasite called anisakis, which causes the best known food poisoning from fish these days, because cultured fish feed can be controlled. In addition, there is a fish disease laboratory on the shore of Mikame Bay, where we grow fish. We collaborate with them to inspect the fishing environment regularly and share information on hygiene management. Furthermore, when we ship flounder, we inspect dozens of times more specimens in the presence of laboratory staff than is usually required.
Tokyo Metropolitan Health and Welfare Bureau
Completely traceable by cultivating the fish in-house
The food camouflages and the contaminations are frequent problems. There are neither camouflages nor contaminations in distribution, because Akasaka Fisheries ships the fish only grown in-house directly. In addition, as we save all the history of upbringing of the fish in a database, it is traceable about the feed being used, the fry and equipment used.
We concern about the feed and the environment disregarding productive efficiency
Akasaka Fisheries uses the original feed mixed with white sesame for sea bream. So grown sea bream, with sesamin stored in them, keeps fresh and tasty, also keeps consumers healthy. As for the feed of flatfish, we are using highly fresh small fish, sand lance, imported from Norway, where the fishery technology has quite developed. In addition, in order to coexist with the sea, we try to scatter water quality-improver agent over a wide sea area, and are cleaning the culture preserves of sea bream and onshore tanks of the aquaculture of flounder frequently by increasing the number of personnel. Because of these efforts, our fish meat is beautiful and odorless and is well received.
We can reflect immediately customer's voice through our direct sale
Akasaka Fisheries is an aquaculture company, but is a rare company that has continued direct dealings with shops in consumption areas. We have been able to continue to improve the quality of cultured fish, thanks to the opinions and suggestions from our customers who are at the forefront with consumers. Our brand fishes, "Hakuju Madai" and "Yokozuna Hirame" were born based on the voices of customers: "We would be glad if the freshness lasts long" and "Thickness is important for flounder".
Our original brand-name fish

We have succeeded in raising the highest quality fish with our customer-oriented attitude and cutting edge farming technology.

The sesamin nutrient keeps fish fresh and keeps you healthy.
Akasaka Fisheries' "Hakuju Madai" Sea bream
This sea bream can be eaten without any anxiety even by young children and elderly people, with its low fat, high protein, and low risk of allergies or food poisoning.
We grow the sea bream using our original feed mixed with white sesame seeds. The sesamin nutrient accumulated in the fish keeps it tasty and fresh and keeps our customers healthy. We named this epoch-making sea bream "Hakuju Madai"(Longevity sea bream) in hopes that people who eat our fish will live healthily for years to come. We are trying to maintain both high quality and good cost performance, because we would like people to eat this fish every day.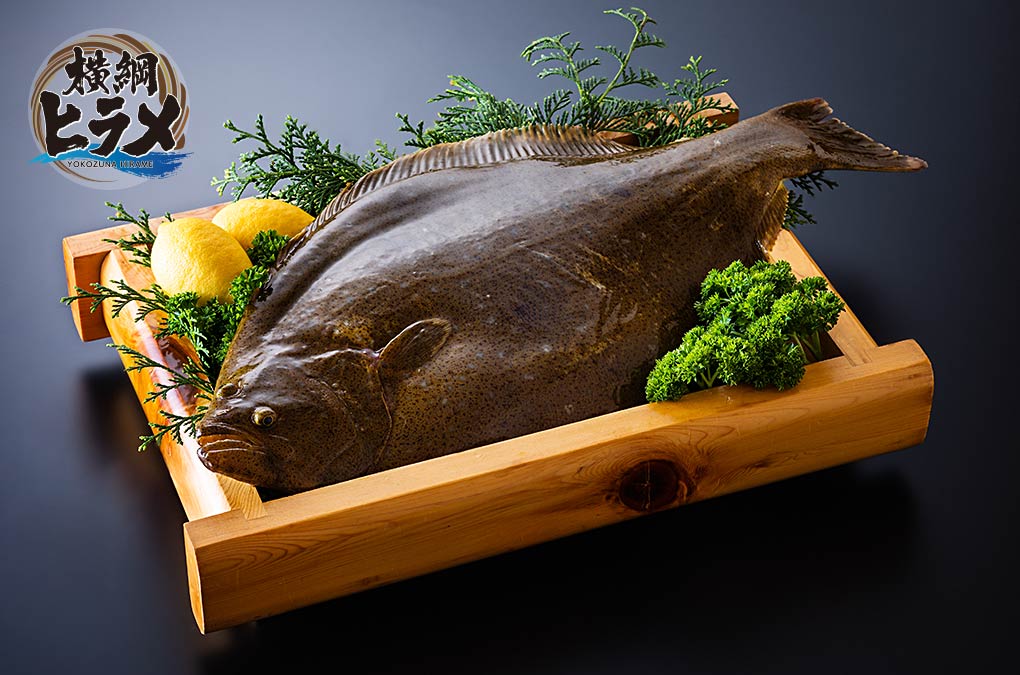 We insist on the safety, tastiness, and thickness of our fish
Akasaka Fisheries' "Yokozuna Hirame" Flounder
We culture about 150,000 flounder. We boast the largest production of flounder in Ehime, which is the 3rd leading flounder producing prefecture in Japan. That is why we can deliver flounder regularly through the year. With our more than 35 years' experience and technology, we can raise flounder that is safe, attractive, and is the thickest in Japan. That is "Yokozuna Hirame." (Grand champion sumo wrestler flounder)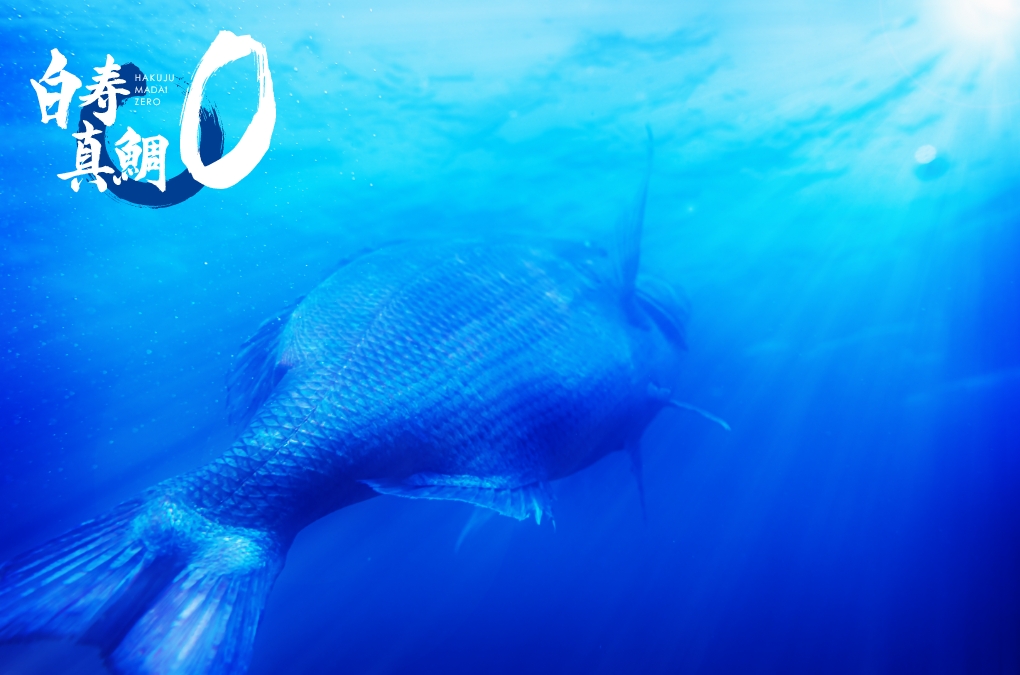 The ultimate in sustainability "Hakuju Madai Zero".
Hakuju Madai takes on the challenge of zero fishmeal.
However, conventional aquaculture technology consumes more fishery resources as feed than the weight of fish produced.
In order to protect the richness of the sea, Akasaka Suisan has produced sea breams without using fishmeal at all,
instead using feed made from vegetable protein. That's what we call Hakuju Madai Zero.