Exhibiting at seafood shows and unexpected benefits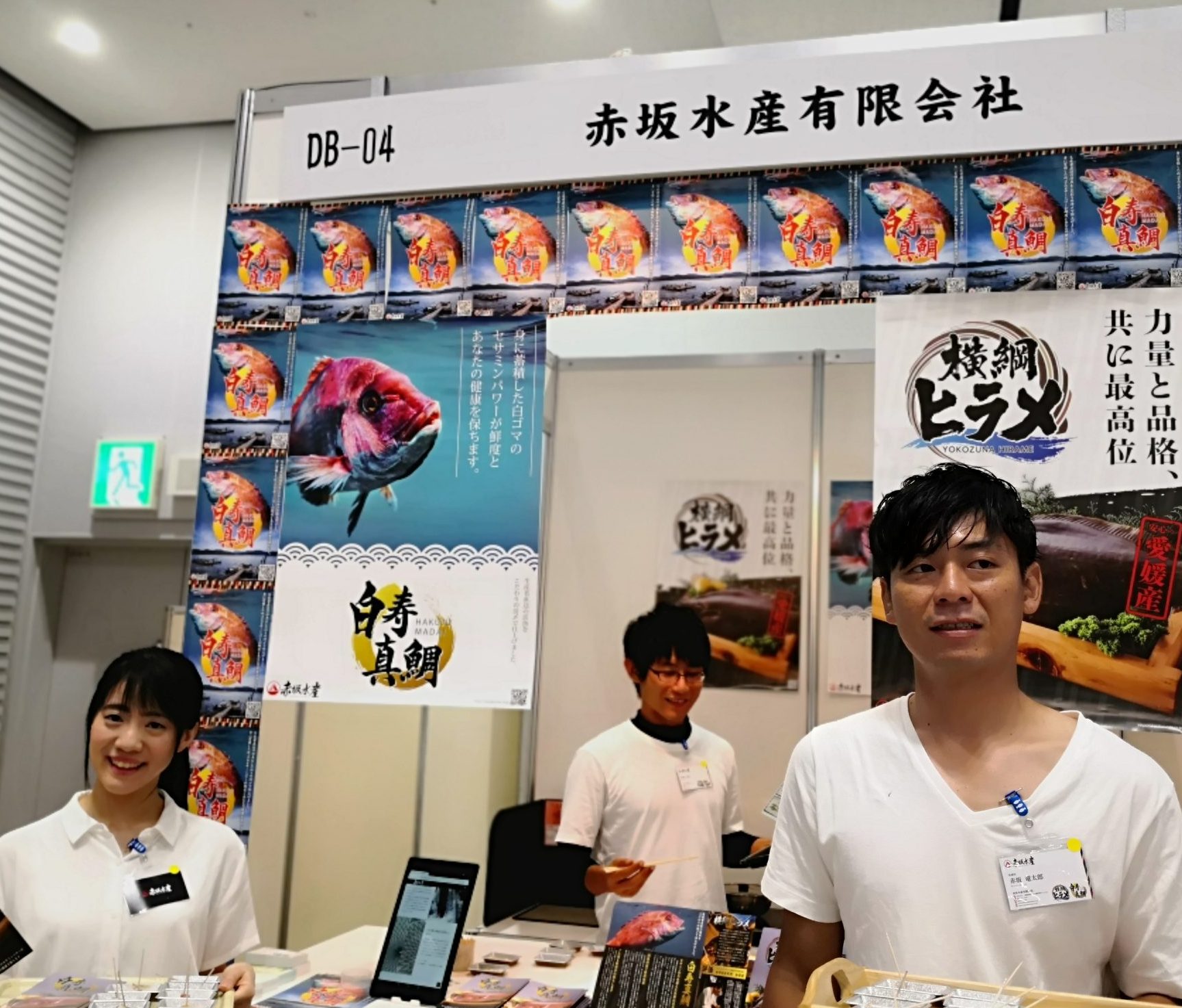 Japan International Seafood Show held at Tokyo Big Sight from August 21 to 23, 2019.
Akasaka Fisheries also exhibited for the first time in order to convey the charm of "Hakuju Madai" and "Yokozuna Hirame".✨
However!
This year's  booth is divided into the first and fourth floors because of Tokyo Olympic 2020, and the Akasaka Fisheries booth is located on the fourth floor😱!
Until it started, there was no choice but to worry about people coming by…
Also, compared to regular booths, there are fewer types of decorations, so I was wondering if our decoration would be felt shabby😅
Furthermore, because the wife of employee who was accompanying Tokyo go into labor, I got him back to Ehime.
So I greeted the first day alone.
Because I woke up at 3 am from the pressure on that day, I was wandering around the hotel where I stayed without any purpose😵
And it was time to hold.
When it started, it was exciting🙌!
Ms. Tachibana's godly customer service, my sister rushed to work, and I was able to get eaten all the tasting foods prepared for more than 1500 meals✨!
After the second day, Nishimoto, who had returned to the last flight as soon as a child was born, joined us and we were able to get to eat all day.🌟
Thank you for coming to the booth, tasting even though the stomach was probably full at the first floor🙇
Sashimi is fresh and crisp even in the evening! There is no smell at all even if it is baked!
It was encouraging that most of the tastings praised "Hakuju Madai"😂!
Each of the business cards we have received over 500 is a treasure✨!(I took it home with my baggage because it was the most important thing.)
We will respond promptly to those who have requested that they want it right away🙏!

I would like to thank Ms. Tachibana, my sister, Nishimoto, and all the Chubu Feeders who supported me before the event🙇!

However, the flow of people was so fast that if we didn't call them firmly, people may pass away in no time.
On the 4th floor, there were a lot of exhibitors who left a lot of sample foods.(Despite the decoration and booth arrangement being better than ours!)
Under such pressure, I thought how I could show interest, and by repeating thousands of trials, it was also a valuable experience that I grabbed important words vaguely✨
As a result(? ?), although the short holding time on the last day, we were able to receive a lot of business cards🙇

Furthermore, we got unexpected benefits.
This photo was taken on the last day of "Hakuju Madai" on a display and packed fillets.
Usually, if you leave the sea bream's fillet, it will turn white in one day.
The fillet on the left is what was processed for 4 days, packed and left for 3 days!



Supermarkets and restaurants were surprised that this level of transparency persisted even after 4 days.✨I'm surprised too😆



Even if I tried it, it felt moist and delicious.
It means that you can eat fillets that have been left in the refrigerator for 4 days!
Once again, I realized the anti-oxidant effect of "Hakuju Madai", live fish-shipping, and sesamin.
Please continue your favors toward "Hakuju Madai", the next generation of the sea bream with improved freshness maintaining ability!