【Well-aged Hakuju Madai】I compared the taste with different dehydration methods.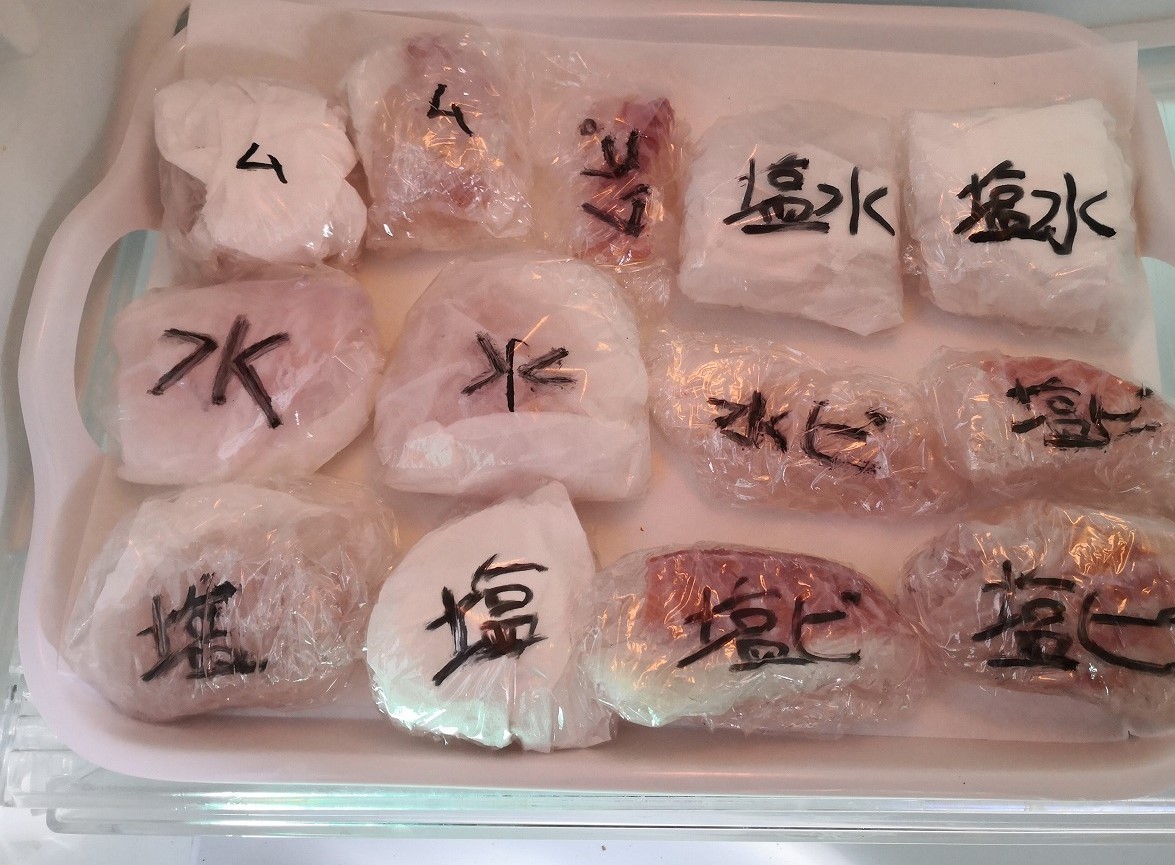 Hi, this is Ryutaro.
I sometimes write columns because they are filled with articles unrelated to fish.
I've said White Kotobuki has the No.1 freshness maintenance ability.
In order to further strengthen and stabilize the freshness maintenance ability, I must do trial and error every day to incorporate new technologies and knowledge.🥶
This time, in the extra edition, we used the Tsumoto-style finishing Hakuju Madai, dehydrated it in various ways, and compared the taste.
Because well-aged Hakuju Madai became very delicious when I tried the dehydration method written in the book of Tsumoto style (described later) on it.
I compared the difference in taste due to the dehydration method!


Use red snapper (2.3kg) 5 days after killing.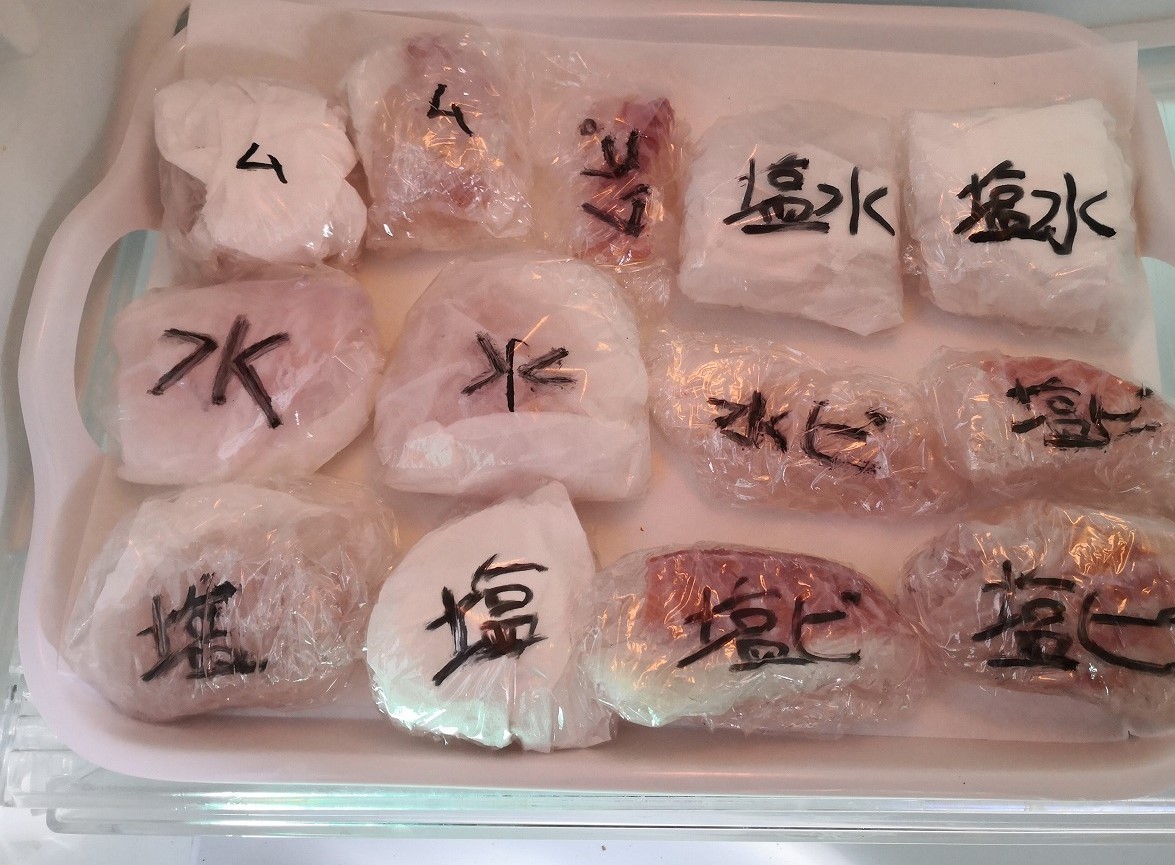 Cut and devided to 12 blocks. (There are 13 but I don't know the reason.)

Examine the difference in taste between those using 12 different dehydration methods.



I grouped fillets of red sea bream according to the following rules.
① Keep it in the refrigerator (dehydrate) for 2 hours or one day.
② Sprinkle sea salt with it or not.
③ Wrap it in kitchen paper or wrap it in a pichit sheet.
④Wash with water before wrapping it or not.
What we actually tasted are the 12 patterns of the table.
Pichit is a sheet that quickly removes moisture and odor by osmotic pressure.
Mild type is recommended for sashimi, but this time I used the regular type because I want to feel more effective.



These were sampled by five employees.
I announce the ID of the table in order of deliciousness!



Dehydrated fillets for one day. 9, 12, 8, 10, 11 clockwise from the top.
Result announcement

7>5=6=10=11>2=3=9
>8>4>1>>12


The best "Umami"! 7 is the most delicious!
7 is what was dehydrated with salt, washed with water, wrapped in pi chit and stored for 2 hours! (That's all.)
The umami felt very strong.
I basked in the afterglow of it as if eating a delicious squid.

Good texture! 5, 6, 10, 11 are almost the same!
This is the effect of dehydration!
Despite being a red snapper that lasted 5 days after killing, the chewy texture was very delicious.
The fillets were also transparent and felt beautiful.

2,3,9 are also delicious but have a flaw.
The ones that were just sprinkled with salt and wrapped in a pictit were also delicious, but there were drawbacks compared to the above because some tasted salty and had scales .
Red sea bream should be washed before dehydrating.

8, 4, 1, and 12 are a bit regrettable.
It tastes really good without smell, but I felt a clear difference from the above!
4 and 1 felt slightly watery.
12 is completely too dehydrated lol
Conclusion
✓If you want to dehydrate in a short time, the best is pichit! However, the regular type is not suitable for a long time.
✓Salt is more affordable and more delicious at any time than Pichit! However, if not washed with water after salting, saltiness will be noticeable.
✓Washing of red snapper fillets is mandatory! However, be sure to use pichit or salt, or let it rest for at least one day.
I ranked as above, but I didn't smell at all!
The Tsumoto style blood removal method is amazing!
In addition, I felt that there deliciousness will be a further step up by examining the time required dehydration or salt amount.
For well-aged fish, how to tailor and the potential of fish is important, but I realized that the taste changes greatly depending on how to handle the fillet by using the skill and experience of the shef.
It's worth noting that restaurants that handle well-aged fish are constantly providing delicious fish more than ID 7 in this table.
I was able to get a glimpse of how many trials had made before reaching it by shef, and how much use their effort and their skill for each fish.
By strengthening and stabilizing the freshness maintenance ability of Hakuju Madai, I hope it can contribute to restaurants that take fish seriously.
For more information on salt-based dehydration, see "Basic Well-Aging at Home (P98-P100)" in the book "Tsumoto Shiki" below! lol


In addition, since the beginning of the Tsumoto style, restaurants have come to visit Akasaka Fisheries.
All those who visit here are serious about fish !
We sell red seabreams that has been carefully cultivated for two and a half years and has been tailored our best.
There's nothing more happy than having fish cook deliciously by who takes fish seriously.
Also, as mentioned above, due to the characteristics of aged fish, the taste changes greatly depending on the handling after processing, so it is very important to handle each fish politely one by one.
The timing of the tour is limited, but it will also motivate us to make good fish, so we continue to do in the future.



They came by a really cool car.